Bedroom Colour Schemes
Does your home styling need a bit of a wakeup call? Shake up your space by changing your bedroom colour schemes. This can help you to liven up your home and provide the perfect place to rest your head at night.
Whether your favourite colour is blue, grey, orange, or red, there is a way to incorporate it into your bedroom colour scheme if you wish to!
With so many colours, fabrics, and styles to choose from, where do you start? Here is the ultimate guide to choosing a new bedroom colour scheme.
Why Change Your Bedroom Colour Scheme?
Having a calm and peaceful place to go to sleep at night can make all the difference to your quality of sleep. Walk into your version of a peaceful room to lay down your head. Whether that means plants, colour, neutrals, textures, it will be different for each person.
By creating your own oasis where you can get away from it all, you can have a truly restful and relaxing sleep.
Alternatively, choose some bold colours to create an exciting bedroom you love spending time in. Whether it's curling up with a good book or turning on the TV, create a room you enjoy hanging out in.
If you're getting sick of the way your house looks at the moment, a few changes here and there can make all the difference to how you feel about your home.
Change can be as good as a holiday, so they say. So why don't you try changing up your master bedroom and seeing how you feel?
Modern Man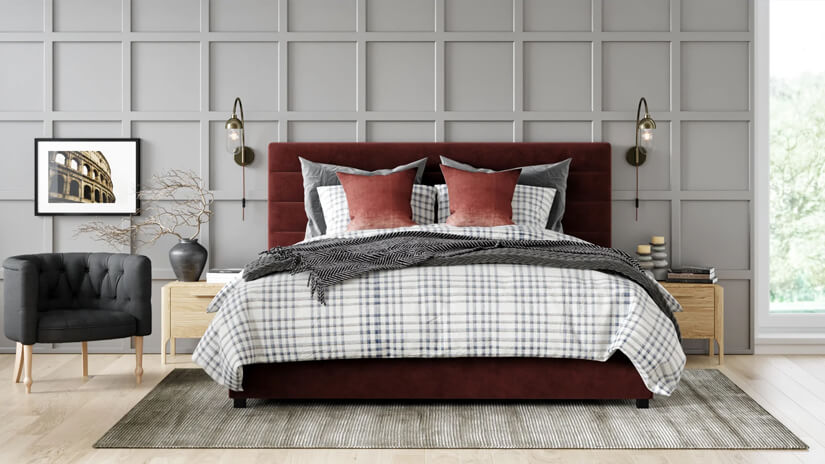 Try pairing an array of greys with browny-reds for an updated take on a bachelor pad bedroom. A heritage red bed frame provides the perfect complement to light grey tones. Pair a red bed frame with other red accents in the room, such as cushions on the bed.
A bedroom for a bachelor doesn't have to be all blacks and blues anymore. Think outside the box to create a unique look that suits your style.
A simple patterned quilt can elevate this look to the next level; choose one with a grey tone that matches the wall colour.
If you're looking for something else to add that extra touch of intrigue to the room, a wall that's not just smoothly painted might be just the thing.
By having a textured wall, you can add depth and interest to an otherwise plain room. Create geometric shapes out of wooden planks and then paint over them or even add a wall of shelves behind the bed to provide a focal point for the room.
Boho Chic
You may consider the era of boho chic to be over but while that may be true in fashion, it's not so for bedroom decoration.
The boho chic look is still very much in! How can you achieve this casual, beachy vibe? Think lots of wood, browns, and off-white colours. A jute floor rug is a good way to start.
Find some wicker furniture or baskets you can place blankets in to stand next to your bed.
Reclaimed wood, brown and white patterned pillows, and throw rugs all tie in well with this colour palette.
The world is your oyster so get creative and add anything else that you think may suit! Plants, succulents, and other green leafy additions would look incredible added to this room.
Greys and Whites Galore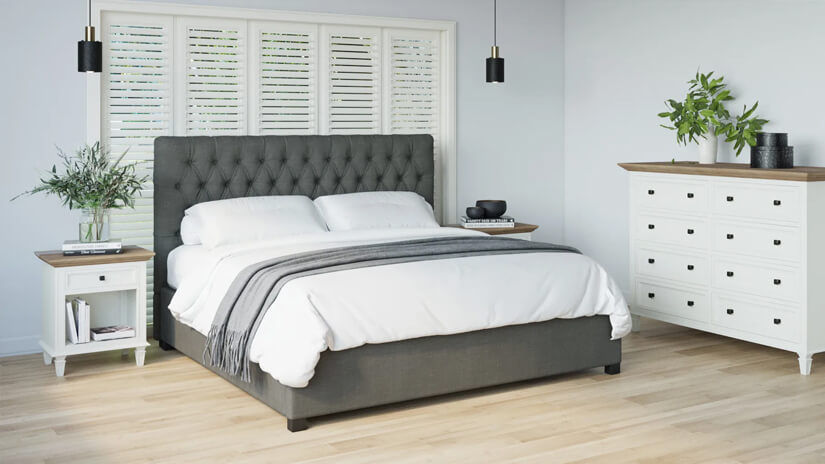 If you're looking for a neutral colour palette to keep your room a serene place to get away from it all, you can't go past white and grey tones.
The bedroom should be a relaxing place, and white promotes peacefulness and calmness. There's plenty to be found in the way of white side tables and chests of drawers so it's all about finding ones which suit your individual tastes.
Adding some grey breaks up the monotony and keeps the room looking interesting.
If you have a grey bed frame, you can add a grey blanket and other accents around the room to match. If you need a dash of colour to keep the room from looking boring, try finding a rug in a suitable colour.
This is a great way of mixing up your colour palette without doing it permanently. A rug is easy to remove if you're feeling over the look. You could even find a multicoloured rug to really lift the spirits of this room.
Bold Patterns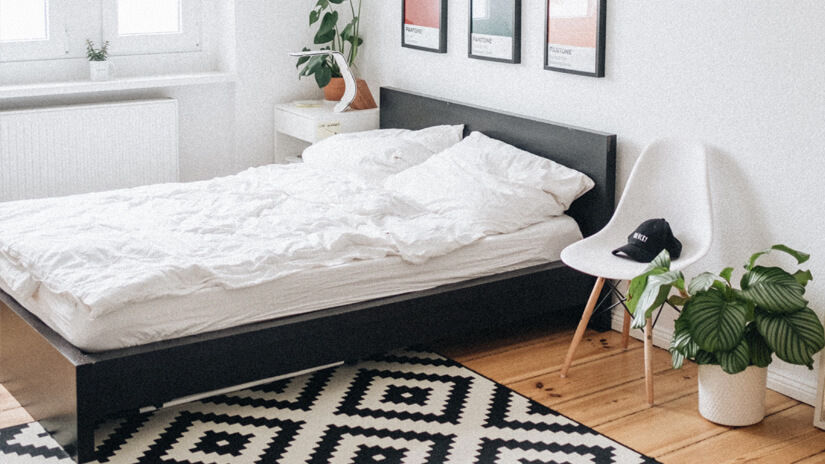 Do you love bold patterns but aren't sure how you can add them into your home while keeping it looking classy?
A fabulous patterned rug can be a great way to do this.
By adding a rug with an interesting pattern into an otherwise plain room, you create a focal point for the room without making it too busy.
A monochrome patterned rug looks wonderful in a monochrome room perhaps with a few splashes of green here and there. Add some leafy plants to create a fantastic look for your bedroom.
When paired with wood, plants look at home in any bedroom. So you can add some wooden furniture to create a fantastically-designed room.
Pale Blues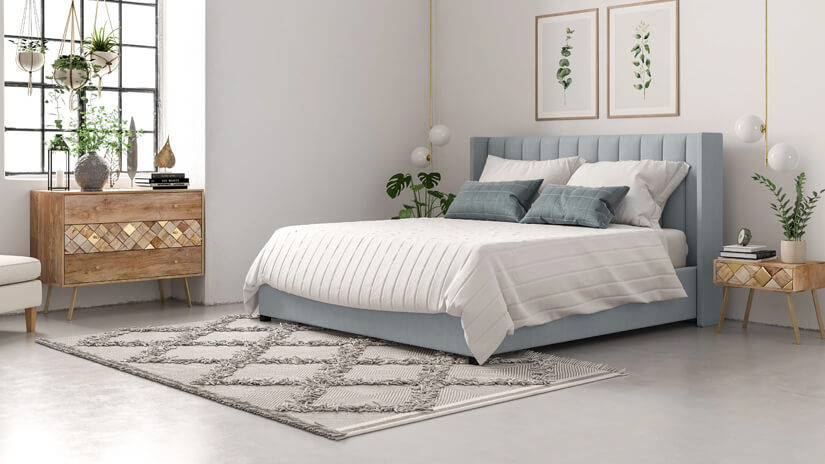 To create a unique haven that will have you feeling safe and secure, pale blue tones could be great for you. If you can find the right grey-blue colour, you will have a gorgeous bedroom decorated in no time.
This colour pairs perfectly with soft-coloured wood and whites.
You could find a pale blue bed and pair it with a matching rug to create the ideal colour scheme.
Or perhaps you'll find a duvet in the pale blue of your dreams. Then you can keep the rest of the room pretty neutral and let this be the star of the show.
Orange and Blue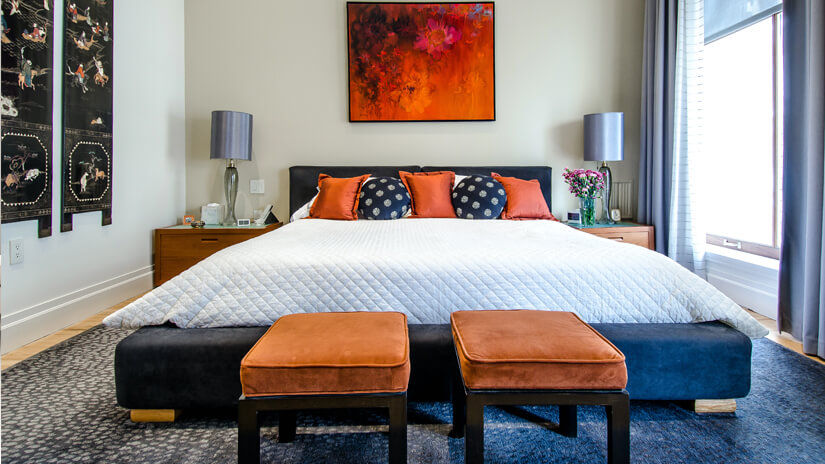 Looking for colour palettes that show off your unique sense of style? Orange and blue just might be the way to do it. Pair a deep burnt orange with navy blue for the perfect match. These two colours look gorgeous together.
Just ensure that you add enough white or greys so that the room doesn't become too overwhelmingly bold.
This look would be wonderful in a master bedroom, guest room, or a child's bedroom. Wherever you put it, this colour scheme is sure to stand out!
Outdoor Chic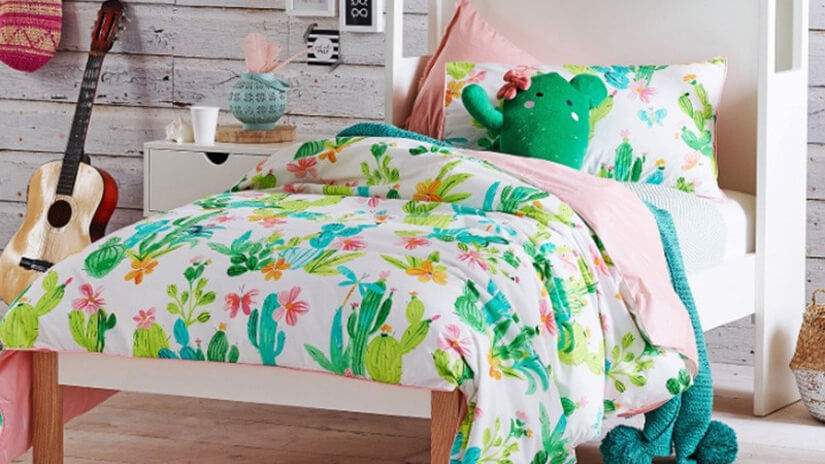 Bring the outdoors inside with a fun cactus print on your bedding! Cacti are extremely trendy for children at the moment.
You can even grab some real cacti to place around the room as they are super low-maintenance and easy for kids to care for.
This can bring a fun and unique flavour to any child's bedroom while teaching them some beginner level gardening techniques.
Pink and green could be the colour scheme here, paired with a white bed. You can even use cacti in a beachy theme - think pared-back weather boards, rustic pale wood, starfish, and more!
Blush
Not sure how to do blush right without turning your master bedroom into a Barbie palace?
Ensure that the shade of blush you select is a pale, neutral tone. It may almost be camel or tan coloured.
With wall colours such as crisp white or pale grey, this can make this bedroom colour really pop. Let the blush do the talking with matching accessories such as blankets, lamps, and more.
You may even be able to find a rug in another colour with touches of blush to tie together the room beautifully.
Blue and Brown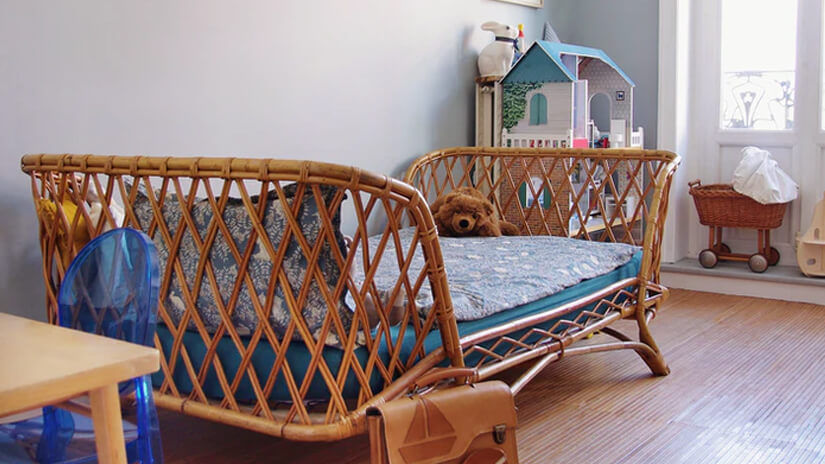 Not sure how to pick a colour for your child's room? Blue for boys has been done over and over again.
There's no need to rehash this old stereotype. You are able to come up with colour palettes that are fresh and fun for your kids' bedrooms.
Blue and brown can suit any gender of child as it updates the traditional blue on blue look.
Select blues that are tonally similar and pair with brown wooden furniture for an immaculately designed child's bedroom. Even better, it is easy to find children's furniture in these colours so you won't have any trouble locating some wonderful items to choose between.
Monochrome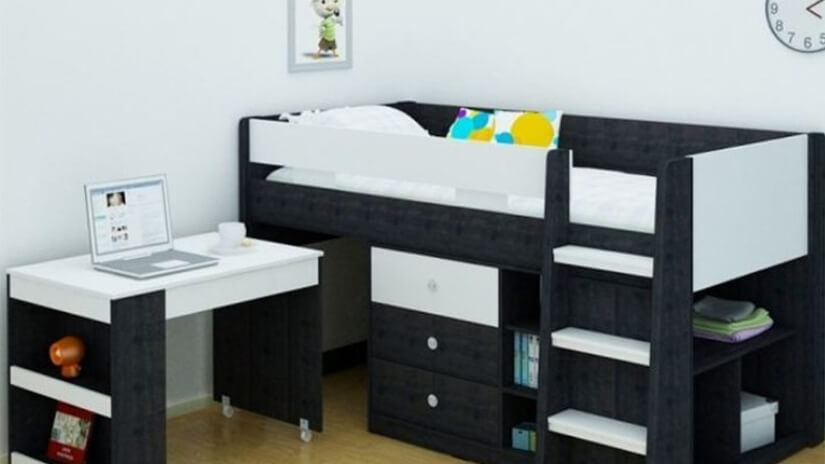 Using a monochrome colour palette of black and crisp white is timeless.
This elegant combination will be in fashion forever, no matter what's currently trending. Paint your walls white so the room doesn't become too dark and then find the perfect black and white bed to go with it.
In a teenager's room, you may want to find a black desk to match so they they have somewhere to do their study as well.
Adding a few bursts of colour is a fantastic idea. You can do this with paintings, cushions, knick-knacks. A pop of yellow or red contrasts well with a room that's predominantly decorated in black and white.
Beach Vibes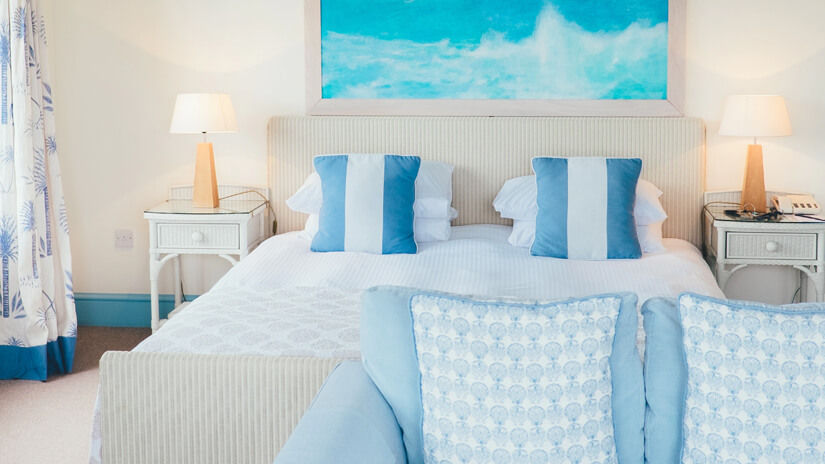 Wish that you could be on holiday all the time? Bring that holiday state of mind to your home with a beachy themed room. This look is easy to achieve and blue and white are fantastic colours for a bedroom. Grab some blue and white striped cushions, find a beach print for the wall, and you're good to go.
You can match these with a blue couch, some wooden furniture, and a white bed for a look that was made for a bach by the seaside. Whether you live by the ocean or not, it's still possible to create a lovely beachy look.
Teal Blue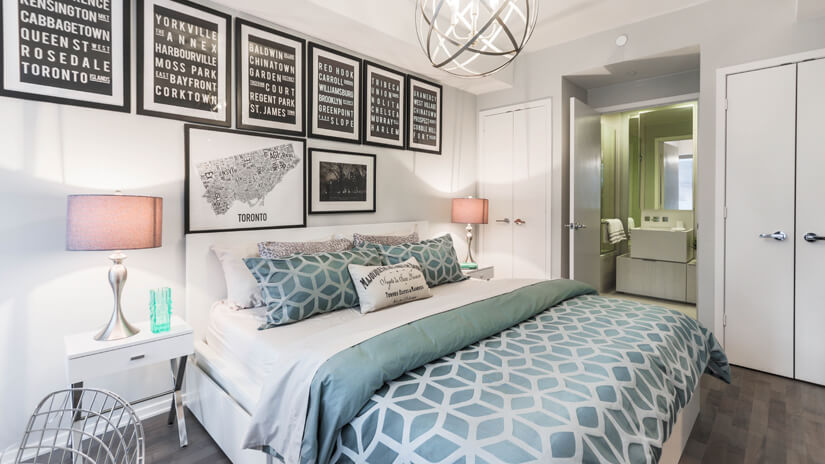 Teal blue is a timeless colour that suits all genders, ages, and tastes. It is highly adaptable and can look awesome with blush, black, navy blue, and more!
If you're going to go with one main colour in your blue bedroom, that's exactly why teal is a fantastic choice for this. You can chop and change accessories and other colours as needed while keeping teal as your staple colour.
Teal also looks wonderful with silver fixtures such as lampshades, drawer handles, and table legs. Create a stunning look for your master bedroom that will suit you both perfectly.
French Elegance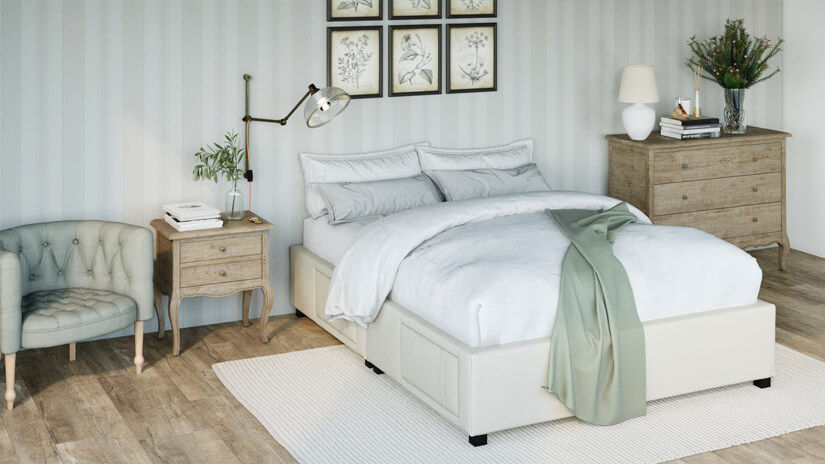 If you are seeking a bit of European flair in your bedroom colour scheme, you can't go past a classic grey and white striped wallpaper. This offers a great start for setting up your room in style.
Neutral colour palettes are key here. Match it with a classic french style upholstered chair to create the look you want.
Select furniture in wooden tones with curved legs to create the ultimate french look. You can select either a plain mattress and base for the bed or one with an upholstered headboard.
Either will look fantastic. The key is to keep the bedroom colours plain and make it all about the furniture. Remember that European style is understated and classy, so choose things to add into your room which fit that description.
Colourful Kids Room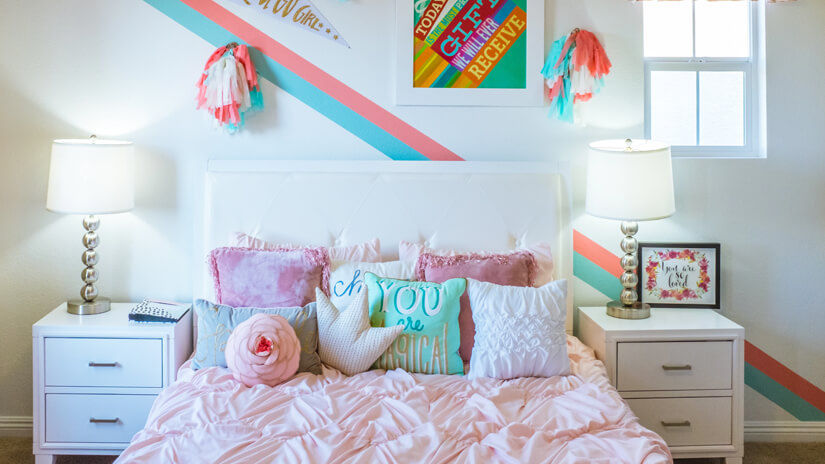 Kids often enjoy having lots of colour around. It keeps their bedrooms vibrant, fun, and an enjoyable place to be in. This is critical for your children, as they likely spend a lot of time playing in their room.
So why not keep the colour schemes for your kids' bedrooms as fun as possible?
Pink and blue can be a stunning combination. Choose multiple pastel shades and combine them to create a fresh, clean look that your child will still love.
Adding touches of interest to the walls with stickers, decals, or paint, can be another great way to add in something cool that will make your child excited to go to their bedroom.
Red Inspiration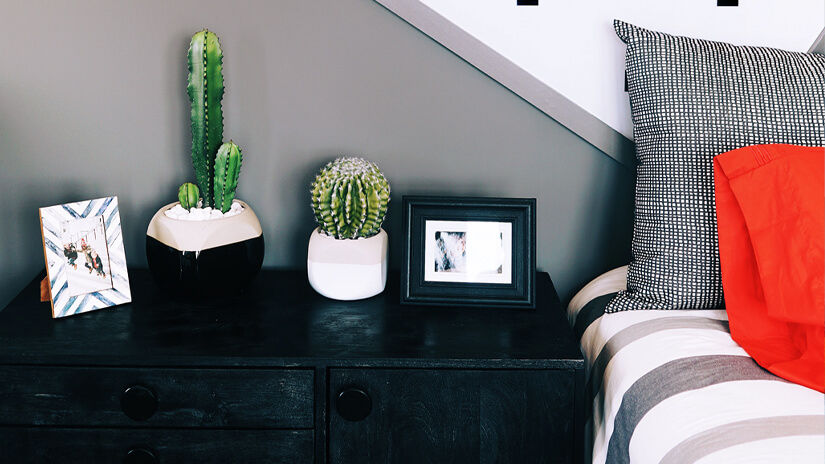 Red and grey can be truly a match made in heaven. If you're set on having bright red in the bedroom, this can be a tough colour to pair with anything else. However, fire engine red and a medium-toned grey are an eye-catching colour combination that works.
Red lends itself to being creative and funky so why not pair it with cool patterns or decals for an extra touch of flair! Create a colour palette that's uniquely you with this jazzy bedroom colour.
A Dash of Mustard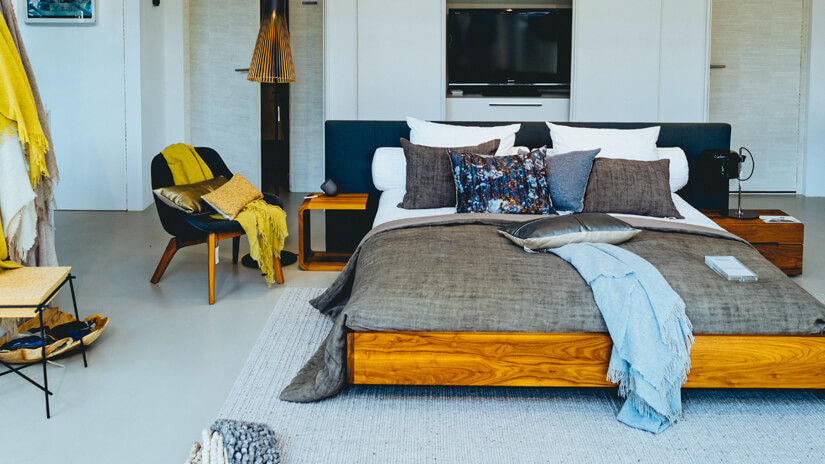 When you need bedroom colour schemes with a fun splash of colour, you can't go past mustard yellow. It looks fabulous with blue, grey, green, and more!
You may not want it as your predominant colour and this is easy to achieve. Add it into a blue bedroom by finding a yellow throw, table, or pillows to add in.
It is sure to make an impact even if you have very little mustard yellow in the room as it's one of those attention-grabbing colours that you don't need a lot of.
If you're looking for paint ideas or a bedroom colour, hopefully, you have found this lost of bedroom colour ideas helpful. Whether you're into a vibrant colour palette or more muted tones, there's something for everyone on this list. Now, go forth and decorate!