The Ultimate Cushion Guide
This article has been written as the ultimate guide to decorating with cushions in your home. We cover everything from how many cushions you should add to where to put them and what colours to opt for.
No more moving cushions around, wondering how to style your home as we've got you covered with everything you need to know right here.
Why Add Cushions?
Many people choose to add cushions on their sofas or their bed for an extra level of relaxation.
Selecting the right size and shape can provide extra comfort to your space. That's not all cushions do however; they can also add a personal flair to any room you put them in.
As there are countless colours, patterns, and sizes of cushions to choose from, you can add your style to any space using cushions.
Cushion Style
There are a few factors to consider under the category of cushion style; namely colour, pattern, and texture. These are what can add that extra zing to any room.
Colour
Selecting your cushion colours can be a tough task, especially if you are going with multiple cushions in a room.
Most people just buy multiple cushions in the same style and colour. However, it can look much better if you mix it up a bit! Try buying all blue cushions in different shades, for example.
Just make sure that they all match tonally. Or select two colours that go well together and buy cushions in shades of those colours, yellow and white for example.
Pattern
Patterned cushions can be a fantastic way of adding more flair to your room. Just don't overdo it! We recommend only having one patterned cushion for every three plain ones you have in the room. This adds balance so that your room will still look beautiful.
Patterns are another great way to play with colour. Choose a multicoloured pattern and then select plain cushions in all the different colours found in the pattern.
This will make it look like you put a lot of effort into the colour palette for the room.
Texture
The texture is another important part of cushion style. You want the cushions to feel soft and comfortable to sit against. Or maybe you prefer a firmer cushion.
There are also tassels, fur, and more to contend with! If you're going for an over the top texture, like fur, again we recommend using these at a 1 to 3 ratio with your plain cushions.
Cushion Size
The next critical factor you're going to have to decide on is the cushion size. You don't want massive cushions overpowering a small sofa or a tiny cushion no one will use on a large lounge suite.
You must select the right size of cushions for the room and object you're placing them on. Here are some of the options that you can use for cushion styling on your different types of furniture.
European pillow 26" x 26"
Lumbar pillow 12" x 24"
Lumbar pillow 14" x 36"
Neckroll 6" x 16"
Bolster 8" x 30"
Boudoir 12" x 16"
Square 16"
Square 18"
Don't worry if you're used to cm and not inches because most pillows sold have the measurements in inches on the packaging, so this list will still help you to find the right cushion for you.
Cushion Arrangement
So, you've chosen the perfect cushions in colour, pattern, texture, and size. now what? The art of cushion arrangement is the skill you need to master next.
Try out some of the below suggestions for different types of furniture to see what you like best in your home.
Cushions on a Bed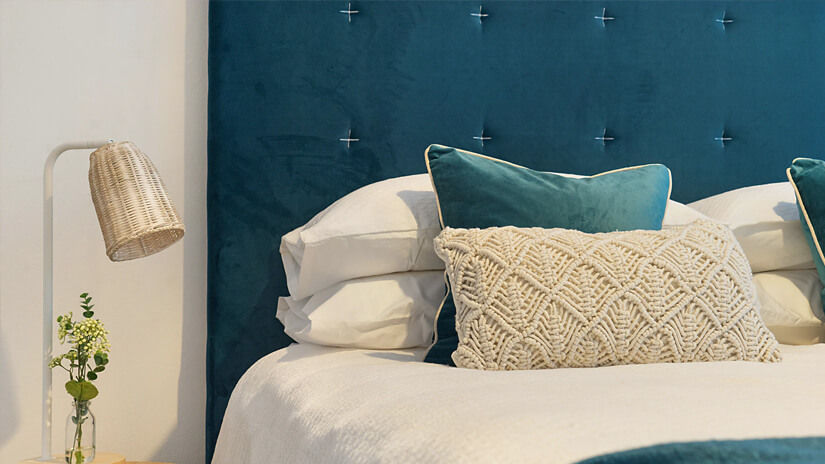 On a bed, using texture can be a great way to create an elegant and fashionable look. Try mixing it up with fur, velvet, or knitted materials.
Just choose whichever fabrics feel good to you but no more than 2 funky textures. This bed offers a great example of texture used well.
The velvet blue headboard is perfectly matched by the velvet pillows. This goes well with the plain pillowcases and all finished off with the knitted lumbar pillow.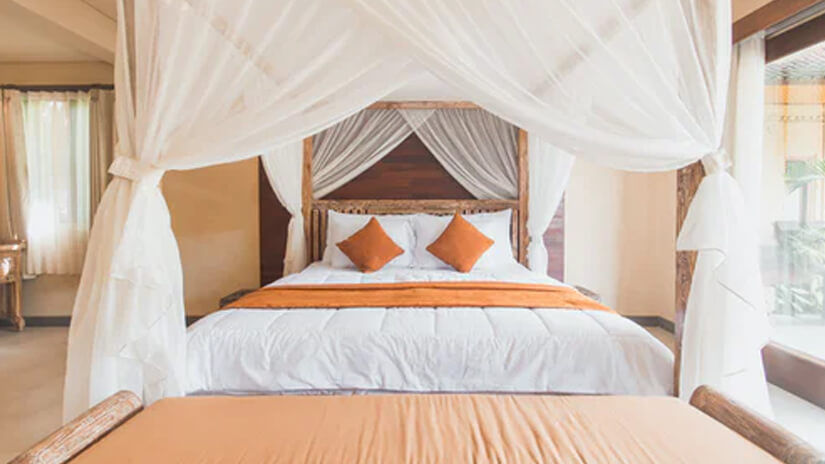 Another thing you can do is arrange square cushions diagonally so they add an extra touch of something different. This arrangement can look especially effective when you use smaller cushions in a contrasting colour to the rest of them.
Take a look at this wooden bed decorated in a billowy white resort style. There is so much white going on that the little touches of orange are a fantastic pop of colour.
Cushions on an Armchair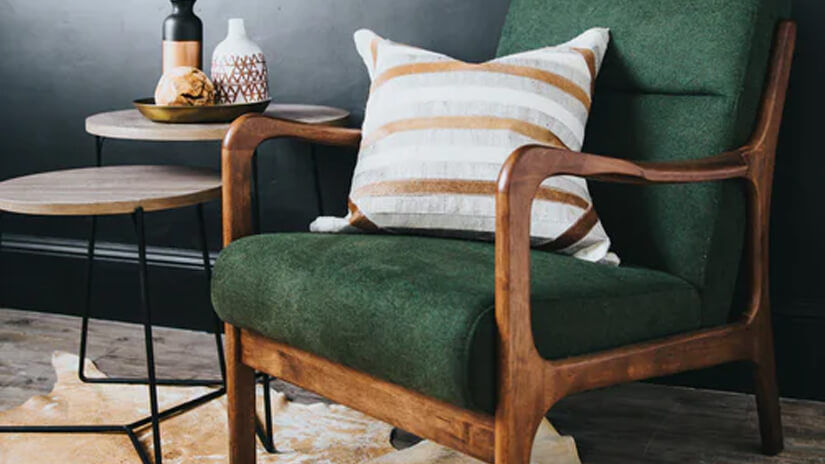 When considering cushion placement on an armchair, you only need one cushion in most cases. As armchairs are rather small, adding too many cushions can look overwhelming and be simply annoying when a visitor tries to sit on the chair.
So one cushion is the ideal amount. Using a cushion in a contrasting colour is generally the best idea. So if the armchair is dark, go for a light colour and vice versa.
If you have art or accent colours in the room, it's a good idea to find a cushion in a matching colour as this can act as a tasteful tie-in. This armchair with wooden arms looks fabulous with the cushion that is brown and white striped. The white contrasts with the green, while the brown matches the arms.
Try a similar style yourself and get creative to match the room you place the cushion in.
Cushions on a Sofa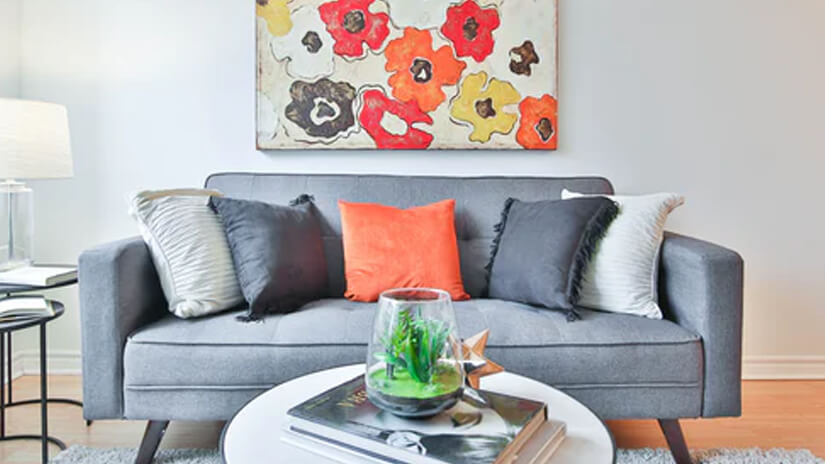 How many cushions should you add to your sofa?
This sofa utilises the 2:2:1 ratio perfectly. It has two matching cushions on either side, then two different matching cushions towards the centre, and finally a different cushion perched in the middle.
This ratio is commonly used in cushion decorating as it creates a nice way of placing different types and colours of cushions. If you're ever not sure of how many cushions to place somewhere, this ratio will work for almost any type of furniture.
What's even better about the sofa in this living room is that they have tied everything together by perfectly matching the centre cushion to the picture above it.
This pop of coral not only contrasts with the sofa but ties the room together. There aren't too many colours going on, just the right amount.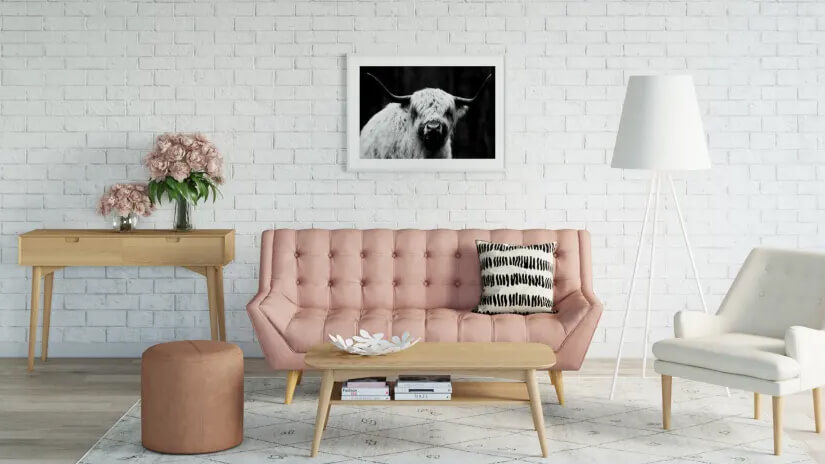 One way of adding cushions onto a sofa is doing it asymmetrically with the cushions at one end. This can be a fantastic look that balances out the sofa in the space.
Especially if the items in your living room are placed asymmetrically, this can work extremely well. When placing cushions at one end, two or three is a great number to add.
Ensure that they are different colours with one or two colours that complement the backdrop and one that contrasts with it. This pink sofa looks fabulous with a black and white cushion placed to one side.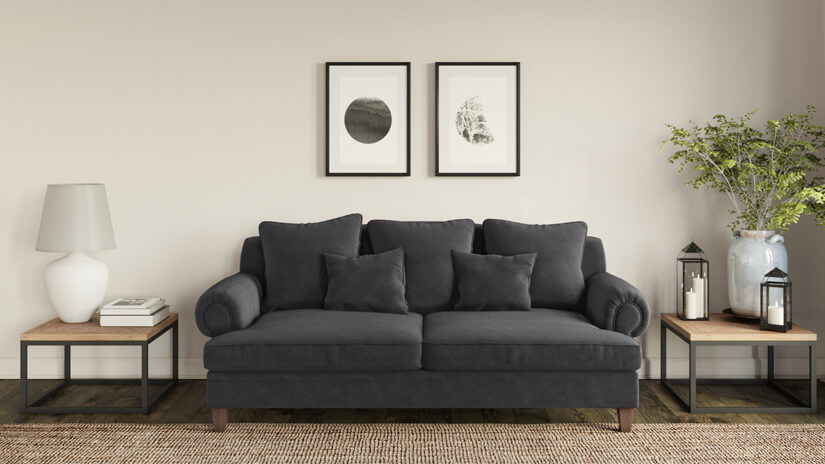 Another option you may enjoy is having cushions in a matching colour to your sofa. If you like a minimalist aesthetic with everything in the same colour, but still want your sofa to be interesting then try mixing up the cushion sizes.
On a large sofa, go for three large cushions and two small. Place the three larger ones evenly along the back and the two smaller overlapping in front, centred on the sofa.
This will give more depth to the sofa and add a point of interest without inserting colour.
By adding cushions to your otherwise plain sofa or bed, you can add an exciting new look to the entire room. Don't settle for a boring, plain sofa, but add contrasting pops of colour to create a lasting impression for when people walk into your living room.
Don't know how many cushions to use?
Go with your gut; if you think it looks good, it probably does. Otherwise, you can always opt for the 2:2:1 ratio if you don't know where to start.
Choose some fantastic cushions and let them do the talking and transform the room into a delightful space.